NEW, February 2015 Release of 3 CDs Flamenco "Circulo de la noche"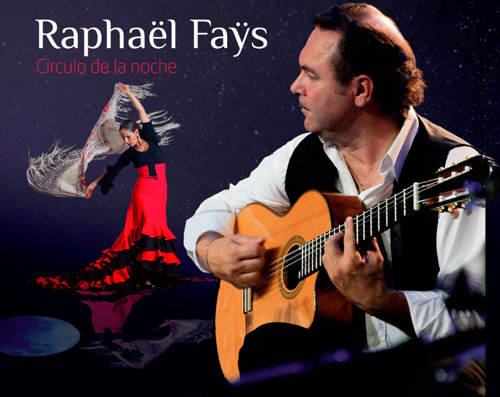 Raphaël Faÿs Group Flamenco
His attraction for the flamenco expresses himself for several years;
he already composed numerous works of flamenca inspiration as
Bulérias, Alégrias, Fandango a perfect success which he expresses
brilliantly in his extraordinary and original performance: he is the only guitarist to play the flamenco with a médiator.

The Flamenco of Raphël Faÿs is original, it does not join in the main descent of the guitarists of Flamenco as Sabicas whom he admires or the master Paco de Lucia. He is simply held in his place by interpreting his own music

In this musical style come from Andalusia, he is also world-famous as one of the biggest virtuosos of his time.
Exclusive Contact of Management:
Patricia Brière +33 (0)6 12 119 659
contact.patricia1@orange.fr